FREQUENTLY ASKED QUESTIONS
Please contact the AHA on 08 9321 7701 during business hours (Monday - Friday 9am-5pm WST) for further clarification on an issue.
---
I've completed my RSA or Approved Manager course online, how long do I need to wait for my certificate?
Your RSA certificate will be emailed to you within 3-4 working days and your Approved Manager certificate emailed to you within 3-4 working days.
I need to get my Approved Manager ID card, do I get that from the AHA?
The Approved Manager ID card is obtained by applying to the Department of Racing, Gaming and Liquor. The application process begins on the Departments website and then is completed when you take your application summary to an Australia Post outlet where they will finalise the application process for you.
For general information please call the Department of Racing, Gaming and Liquor on 08 9425 1888 or www.rgl.wa.gov.au.
For information regarding the Approved Manager process, click here for further information.
When does my Approved Manager ID card expire?
The ID card is valid for a period of 5 years.
You will be notified via email prior to the expiry of your existing approval and given instructions on how to renew your application online. Please ensure you retain your log in details and update your contact details as required. This will enable you to receive information pertaining to your approval when applicable.
You are not required to notify the department when you leave a licensed premises or move to a new licensed premises. Provided you retain your ID card it is valid at any licensed premises in WA subject to your level of approval (Unrestricted/Restricted).
View the logdement guide here.
---
How do I know if the RSA certificate I have is the nationally accredited RSA?
A nationally accredited RSA certificate will have the following three components;
THHBFB09A
THHBFB09B
SITHFAB009A
SITHFAB002
The words 'Statement of Attainment' If you are unsure if your RSA certificate is the nationally accredited, please call the AHA Training Department of 08 9321 7701 to assist you further. Please ensure you have a copy of your certificate with you when you call us.
The NRT (Nationally Recognised Training) logo on it, this is an upside down triangle as below: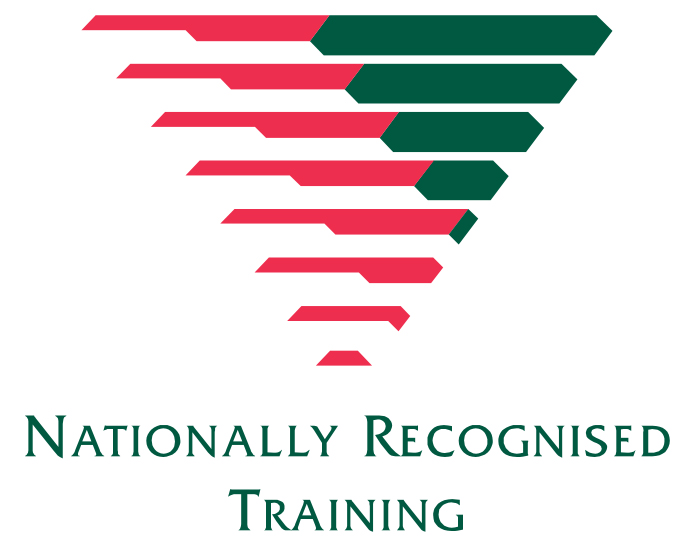 ---
How long will it take me to complete online training?
The online RSA course is based on 5 hours of content and the Course in Management of Licensed Premises is based on approximately 8 hours of content. However each individual has completely different learning styles and with this in mind it is very difficult to say how long it will takeThe benefit of online training though, is that you can complete your online training in one sitting if you choose or you can login and out as often as you need.
Some online learners complete the training in a few hours and some it can take longer, it all depends on how quickly you absorb and understand the information and how technology savvy you are that will determine how quickly you progress through the course.
What is an RSA card and do I need one?
A RSA ID card is a convenience, wallet sized plastic version of your paper certificate. It is not mandatory to have a RSA card, however is a very handy, convenience version of your paper certificate.
Why do I need to upload a copy of my ID?
As an RTO (Registered Training Organisation), we are required to confirm the identity of individuals who complete nationally recognised training with us. Your ID is not used for any other purposes.
My login has expired, do I need to register again?
No you do not need to register again. We can reset your login details. Please call us on 08 9321 7701 or email train@ahawa.asn.au
I haven't received my login details yet, how long does it normally take?
Once you have successfully registered for your online training, your login details are sent to your nominated email address immediately. Please make sure that you double check your junk/spam/trash files, just in case the email with your login information was diverted there.
I am having issues with my online course, who do I contact?
Please call the AHA Training Department between 9am – 5pm Monday to Friday on 08 9321 7701.
I have lost the original copy of my RSA certificate, how do I get another one?
Please call the AHA Training Department on 08 9321 7701 or email train@ahawa.asn.au to arrange a replacement certificate.
If you completed your course online, we can email you a copy free of charge. If you completed classroom training with us an emailed copy will be $20 or a hard copy will be $45.
Please note new electronic copies of RSA certificates are $20 or a hardcopy will be $45
I am 17 years old, can I complete the Responsible Service of Alcohol course on your website?
Yes you can complete the RSA training if you are 17 years old, however you cannot use the certificate until you are 18 years old.
I don't have a scanner, what can I do?
You can upload the required documents by taking a photo of them with your smartphone and uploading the photos that way. Please call us on 08 9321 7701 if you don't have a scanner, smartphone or the ability to upload your required documents.

D

O YOU HAVE A UNIQUE STUDENT IDENTIFIER (USI)
From January 1st 2015, anyone who completes nationally recognised training in Australia, will be required to have a Unique Student Identifier (USI).
A Unique Student Identifier (USI) is a reference number made up of numbers and letters that gives students access to their USI account. All your studies undertaken after January 1st 2015 will be recorded against your USI.
When applying for a job or enrolling in further study, you will need to provide your training records and results (transcript). One of the main benefits of the USI is the ability to provide students with easy access to their training records and results (transcript). The USI will be available online and at no cost to the student.
This USI will stay with you for life and be recorded with any nationally recognised VET course that is undertaken. You can create your USI now by visiting www.usi.gov.au
What this means for you?
If you are completing the AHA's nationally recognised Responsible Service of Alcohol course you will need to either:
Provide your existing USI if you have one already; or
The AHA can apply for one on your behalf, this process will be integrated into the normal AHA online training registration process.
For further information regarding the new USI implementation, please contact the AHA Training Department on 9321 7701 or email
Certificates for training completed after 1 Jan 2015 cannot be issued without a student USI number.
HARM MINIMISATION PACKS
It is mandatory for all licensed premises to have a Harm Minimisation Plan, House Policy and Code of Conduct
The AHA(WA) Harm Minimisation Package has been designed to assist you in satisfying the harm minimisation guidelines set out by the Department of Racing, Gaming and Liquor.
The package contains the House Management Policy and the Code of Conduct presented on an A3 certificate that is suitable for framing and display in your premises.
The package also contains the Management Plan which is presented in a hard copy format and on disk in order to assist you in customising the plan to your needs, as required by the Department.
EMPLOYABILITY SKILLS
Employability Skills are embedded in training and assessment. Information on the Employability Skills relevant to your qualification can be obtained by visiting the employability skills training website and keying in the national code for the qualification.
Click here to download the AHA(WA) Hospitality Training Centre Code of Practice.
Please contact the AHA Hospitality Training Centre on 9321 7701 to discuss requirements.
Your way of learning - is it visual, listening or a feeling thing?
While course dates and information are provided for your convenience on the AHA(WA) website and Training Calendar, please be aware dates and times may change. Contact 9321 7701 to find out more.
---
Providers of Responsible Service of Alcohol (RSA) and Approved Managers Course (Management of Licensed Premises MLP 1), leaders in hospitality training.