Novel Coronavirus Updates

AHA Hospitality and Tourism COVID-19 Hygiene Training

The AHA Hospitality and Tourism COVID-19 hygiene training program has been launched to prepare the hospitality industry for a return to business.
The AHA is constantly monitoring the Coronavirus situation working closely with the Commonwealth and WA Government on strategies to help avert the effect that the situation will have on tourism by:
Maintaining constant contact with Tourism Australia and Tourism Western Australia;
Monitoring Commonwealth Department of Health and World Health Organisation advice; and
Participating in industry crisis co-ordination task forces at a State and National level.
Click the icons below for more information:
Significant expansion to proof of vax requirements
Premier Mark McGowan announced a significant expansion of mandatory proof of vaccination requirements that will apply across WA from Monday, 31 January 2022.

From this date forward, double dose proof of vaccination for those aged 16 and older will be required at the following places and importantly, will apply across WA:
All hospitality venues including restaurants, cafes, bars, pubs, clubs, taverns, night clubs and dine-in fast food (roadhouses, service stations and takeaway is exempt);
bottle shops;
the entire Crown Perth complex;
major stadiums;
visitors to public and private hospitals, and aged care facilities;
gyms, fitness centres and health studios;
indoor entertainment venues, including play centres, gaming and gambling, theatres, concert halls, museums, cinemas and live music venues;
amusement parks and the Zoo; and
music festivals and large events with more than 500 people, unless exempt.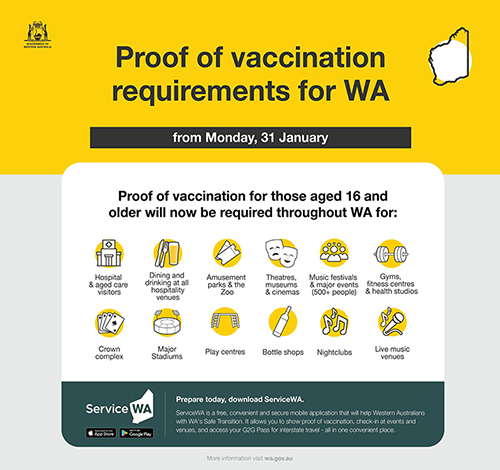 As is the case with proof of vaccination requirements already in place for select venues in Perth and Peel, venues, staff and patrons will have a shared responsibility when it comes to proof of vaccination. Venues are required to take reasonable steps to ensure all patrons are double dose vaccinated, or exempt.

People will be required to show proof of their COVID-19 vaccination, either in a digital or paper-based form, along with approved identification if not using the ServiceWA app. For ore information about the ServiceWA app click here.

The expansion represents the broadest mandatory vaccination policy in Australia, with the Premier warning the new policy "will not be removed any time soon."


---
AHA venue signage can be found here
---
References