THINK2WICE
20 July 2010
The Western Australian Local Government Association (WALGA) has thrown its support behind the Australian Hotels Association (WA)'s push for smokers to be courteous to non-smokers and to dispose of their cigarette butts responsibly in and around hospitality venues.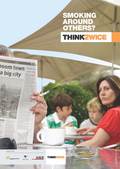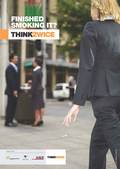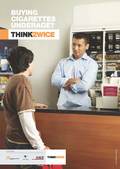 In August 2009, the AHA(WA) launched THINK2WICE, which is thought to be the first campaign in the world driven by the retail industry designed to encourage smokers to be considerate of others and dispose of their cigarette butts responsibly, while at the same time discouraging underage youth from trying to purchase cigarettes.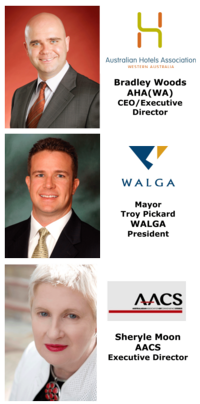 After running the initial THINK2WICE campaign for two (2) month period in selected taverns and pubs throughout Western Australia, the AHA(WA) has expanded the scope of the campaign in 2010.
THINK2WICE campaign material will be displayed in AHA member venues between Sunday 18 July and Monday 16 August 2010.
AHA(WA) CEO, Bradley Woods, says the campaign was being expanded after a successful trial period and that the support of local governments was a critical aspect of reaching a wider audience.
"THINK2WICE is all about education, self-regulation and providing people with tangible alternatives to simply tossing their cigarette butts randomly," he says.
"THINK2WICE is about promoting a positive change in behaviour so we reduce the amount of cigarette butts scattered throughout our environment and we encourage consideration and mutual respect within patrons.
"Our staff don't hold the authority of council officers or rangers in enforcing smoking regulations through fines and infringements, but we can position ourselves as conduits for peer-to-peer communications in order to change peoples' attitudes."
Bradley Woods says it was up to the industry sectors that have an obligation to cater for smokers and non-smokers alike to send a proactive and positive message to the community.
"We are sending out a clear message to smokers that they need to respect the rights of others and should take responsibility for the litter they create," Mr Woods says.
"People smoke in outdoor areas of hotels and bars and they purchase their tobacco products from convenience stores and service stations, so these places are excellent venues to capture and educate people in relation to doing the right thing.
"We have a responsibility to cater for both smokers and non-smokers comfortably and we want smokers to think twice when they are smoking around others, be considerate of the rights of people who don't smoke and to always dispose of their cigarette butts responsibly.
"Key stakeholders, the hospitality and retail industry sectors have responded to the ongoing political and social debate relating to smoking by implementing a campaign that supports, and in most cases exceeds, the expectations of the community and all levels of government."
The key campaign messages that will be displayed throughout selected taverns, pubs and convenience stores are:
Smoking around others? THINK2WICE
Finished smoking it? THINK2WICE
Buying cigarettes underage? THINK2WICE
WALGA CEO, Ricky Burges, has provided her support for the campaign on behalf of the local government authorities throughout WA.
"The THINK2WICE campaign is one of those initiatives that you really wish wasn't necessary but unfortunately sometimes people need reminding to do the right thing," Ms Burges says.
"The AHA has the support of WALGA in the campaign as ultimately our members share responsibility in ensuring amenities are at an acceptable standard for the public and that includes issue of litter."
Click here to download a copy of the media release