WA's Best Country Pub Steak Sandwich Competition 2011
2011 WINNER ANNOUNCED!

Congratulations to the winner, Chef Ray Pullen from the Royal Exchange Hotel Katanning!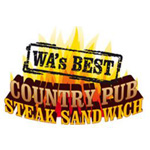 The five finalists competed in the 2011 Steak Sandwich grand final cook-off at Hospitality Expo 2011, Burswood Entertainment Complex at 2pm on Wednesday 2 May.

The Royal Exchange Hotel's steak sandwich was judged the best of five finalists by a panel consisting of former Channel 9 newsreader Dixie Marshall, 882 6PR's Steve Mills, Lion Nathan's Tim Islip and The West Australian's Rob Broadfield.
The panel crowned the Royal Exchange Hotel as the overall winner of the title '2011 WA's Best Country Pub Steak Sandwich', with "A steak that melts in your mouth combined with the other ingredients makes for a taste sensation served with awesome country hospitality."
Chef Ray Pullen won the panel and the crowd over with his sandwich featuring Black Angus scotch fillet, toasted ciabatta bread, gruyere cheese, sliced tomato, rocket, homemade beetroot & horseradish relish, homemade garlic mayonnaise, served with a side of hand cut chips and beer battered onion rings seasoned with chilli sea salt.
Congratulations to the finalists below:
Southerlys Harbour View Bar & Restaurant, Coral Coast
Mundaring Hotel, Experience Perth
Ravensthorpe Palace Hotel, Golden Outback
Matso's Broome Brewery, North West
Royal Exchange Hotel, South West

2011 Nominees
South-West Region
Albie's Bar & Bistro
Bremer Bay Resort
Colonial Brewing Co
Premier Hotel Collie
Royal Exchange Hotel
Settlers Tavern
The Bridgetown Hotel
The Bull and Bush Tavern
White Star Hotel
North-West Region
Divers Tavern
Matso's Brewery Broome
Pannawonica Tavern
Coral Coast Region
Dongara Hotel
Freemasons Hotel Geraldton
Gilgai Tavern
Ronsard Bay Tavern
Southerly's Harbour View Bar & Restaurant
Spencer's Brook Tavern
Three Springs Commercial Hotel

Experience Perth Region
Drakesbrook Hotel
Fitzgerald Hotel
Mt Helena Tavern
Mundaring Hotel
Ravenswood Hotel
The Gingin Hotel
The Peel Ale House
Wandering Tavern
Waroona Hotel
Australia's Golden Outback
Desert Inn Hotel
Ora Banda Historical Inn
Piccadilly Hotel
Ravensthorpe Palace Motor Hotel
The Club Hotel
Quindanning Tavern