2015 AHA & Aon Hospitality Awards for Excellence
Presented at the Lion Gala Ball


The AHA Aon Hotel and Hospitality Awards for Excellence celebrated and acknowledged excellence in the hotel and hospitality industry.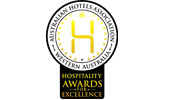 The winners of the 2015 AHA-Aon Hospitality Awards for Excellence were announced at the Lion Gala Ball at Crown Perth tonight.
It's exciting to see the incredible calibre of both finalists and winners, who are driving the future of hospitality in WA.
Tonight's awards recognise accommodation hotels, pubs, bars, dining and tourism facilities as well as employees that demonstrate excellence within the industry.
AHA(WA) CEO, Bradley Woods, said "2015 has been a great year for Western Australian Hospitality".
"Our venues and food and beverage offerings have been recognised nationally and internationally amongst the best of the best".
"Tonight we have celebrated the venues and staff who have shaped the industry into what it is today, as well as the rising stars of the future".
"Forty-two awards were presented recognising the best of WA hospitality, including WA's Best Hospitality Venue, WA's Best Bottlehop and WA's Best Restaurant – to name a few".
"Over 1100 guests joined the finalists and award recipients celebrating WA hospitality excellence," Mr Woods concluded.
For more photos of the evening visit www.ahawa.asn.au/events or the AHA facebook page. Photos will be made available shortly.
View all the winners and finalists online at our website dedicated to showcasing the best in hospitality for 2015! www.hospitalitywa.com
Photos will be made available shortly.
View the media release here.
GENERAL AWARDS
Responsible Service of Alcohol Award sponsored by Coca-Cola Amatil
Winner: The Skye Bar
Training Initiative Award sponsored by Hospitality Group Training
Winner: Adventure World
Highly Commended: Kimberley Accommodation
Retail Bottleshop Award sponsored by NAB
Winner: The Ashby Bar and Bistro
Aon Risk Solutions Community Service Award
Winner: Perth Arena
Safe Cellar Award sponsored by BOC
Winner: The Generous Squire
The Lion Bar Presentation and Service Award
Winner: Print Hall Bar
Highly Commended: Whistling Kite
Small Bar Award sponsored by BHO Interiors
Joint Winners: Lot 20
Joint Winners: Varnish on King
Cocktail Bar Award sponsored by Asahi Premium Beverages
Winner: The Classroom
Highly Commended: Bar Lafayette
Late Night Venue Award sponsored by Red Bull Australia
Winner: The Laneway Lounge
Highly Commended: Universal Bar
Environmental Practice Award sponsored by Synergy
Winner: Perth Arena
Tourism Initiative Award sponsored by Dwyer Durack Lawyers
Winner: Hotel Rottnest
Outstanding Committment to Workforce Development Prctices Award sponsored by FutureNow
Winner: Settlers Tavern
Outdoor Area Award
Winner: Mangrove Hotel
Boutique Brewery Award sponsored by BOC
Winner: Colonial Brewing Company
Conference and Functions Award sponsored by Perth Convention Bureau
Winner: Settlers Tavern
Redeveloped Venue Award sponsored by Mal Atwell Billiards and Bingo
Winner: Crown Sports Bar at Crown Perth
New Venue Award sponsored by TourismWA
Joint Winners: Duke Bar and Bistro
Joint Winners: Northbridge Brewing Company by Beerland
Social Media Activity Award sponsored by Toxfree
Winner: Matisse Beach Club
EMPLOYEE AWARDS
Cookery Services Employee Award sponsored by Hisconfe
Winner: Geoff Franklin, Crown Perth
Highly Commended: Josh Vears, White Salt
Front Office and Administration Employee Award sponsored by Hostplus
Winner: Lynn Dobson, Matso's Broome Brewery
Highly Commended: Debby Harvey, The Brook Bar and Bistro
Food and Beverage Services Employee Award sponsored by Staging Connections
Winner: Lara Ducie, Blanche Bar
Highly Commended: Andrew Noll, Belgian Beer Cafe Westende
PubTAB Operator sponsored by TAB
Winner: Wikitoria Cooper, The Gate Bar and Bistro
Cocktail Bartender Award sponsored by DIAGEO
Winner: Andrew Bennett, The Classroom
Highly Commended: Sebastian Terkildsen, Lot 20
AHA - HGT Rising Star Award sponsored by AHA(WA) and Hospitality Group Training
Winner: Michael Strom, The Gate Bar and Bistro
Venue Manager Award sponsored by Hisconfe
Winner: Matthew Marinich, The Monk Craft Brewery Kitchen
Highly Commended: Sebastien Lepoittevin, Print Hall
Head Chef Award sponsored by Hostplus
Joint Winners: Danielle van Coevorden, Greenwood Hotel
Joint Winners: Mark Twomey, The Breakwater
Bar Team Award sponsored by Hostplus
Winner: Ball & Chain at Esplanade Hotel Fremantle - by Rydges
Highly Commended: Last Drop Tavern
ENTERTAINMENT AWARDS
TAB Hotel/PubTAB Venue Award sponsored by TAB
Winner: Port Kennedy Tavern
Sporting Entertainment Venue Award sponsored by FOX SPORTS Venues
Joint Winners: Crown Sports Bar at Crown Perth
Joint Winners: Greenwood Hotel
Live Entertainment Venue Award sponsored by APRA AMCOS
Winner: Settlers Tavern, HALL OF FAME
Themed Venue Award sponsored by Coca-Cola Amatil
Winner: Lucky Chan's Laundry & Noodlebar
DINING AWARDS
WA's Best Steak Sandwich Award sponsored by Meat Direct
Winner: The Merrywell at Crown Perth
Contemporary Bar Menu Award sponsored by Accolade Wines
Joint Winners: Kitsch Bar Asia
Joint Winners: Morries Anytime
Casual Pub Dining Award - Metropolitan sponsored by Murfett Legal
Winner: Northbridge Brewing Company by Beerland
Casual Pub Dining Award - Regional sponsored by Star Payment Systems
Winner: Settlers Tavern
Highly Commended: Bedford Arms Hotel
Family Dining Award sponsored by Wing Hong Food Services
Joint Winners: High Wycombe Tavern
Joint Winners: Lo Zucchero
Highly Commended: Elmar's in the Valley
Restaurant Award sponsored by hit92.9 and Mix 94.5
Joint Winners: Ria Malay Kitchen
Joint Winners: Subiaco Hotel
Premium Restaurant Award sponsored by Treasury Wine Estates
Winner: Print Hall Dining Room
Wine List sponsored by Miles from Nowhere
Winner: Print Hall Dining Room
OVERALL AWARDS
Group Venue Operator Award sponsored by Carbon Footie
Winner: Tenfold Investments
WA's Best Regional Hospitality Venue sponsored by H & L Australia
Winner: Mangrove Hotel
Perth's Best Hospitality Venue sponsored by Furniture Options
Winner: Print Hall, HALL OF FAME
Hospitality Industry Lifetime Achievement Award
Winner: Andrew Hine