2013 AHA-Aon Hotel and Hospitality Awards for Excellence
Presented at the James Squire Gala Ball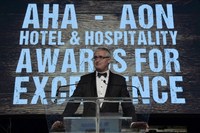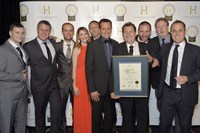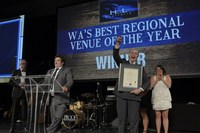 The AHA Aon Hotel and Hospitality Awards for Excellence celebrated and acknowledged excellence in the hotel and hospitality industry.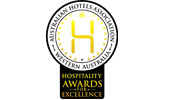 Held in the Grand Ballroom of Crown Perth on Monday 11 November 2013, the James Squire Gala Ball and the presentation of the 2013 AHA Aon Hotel and Hospitality Awards for Excellence was a night of celebration, entertainment and glamour.
The Hon Terry Waldron MLA, Minister for Sport and Recreation; Racing and Gaming addressed the hotel and hospitality industry on the changes his department was advocating towards the Liquor Control Act.
AHA(WA) CEO Bradley Woods said the standards of the WA Hotel and Hospitality Industry has never been so high with the awards recognising accommodation hotels, pubs, bars, dining and entertainment venues as well as employees that demonstrate excellence within the hospitality industry.
"There was tough competition in all award categories.
Attended by over 1,200 guests, the night showcased finalists and winners across 42 categories including excellence in service, presentation, responsible service of alcohol, innovation, redevelopment, tourism and accommodation.
Eagle Bay Brewing Co was the winner of the WA's Best Regional Venue of the Year while Print Hall was awarded WA'Â's Best Hospitality Venue of the Year, while also taking out the Lion Bar Presentation and Service Award, WA's Best Wine List and WA's Best New Venue Award.
For the second year in a row, the AHA De Bortoli/6PR Perth'Â's Pub of the Year Award was presented to The Gate Bar and Bistro. The Gate also had success winning WA's Best Public Bar Menu Award and Outstanding Commitment to Workforce Development Award.
Winners received an exclusively framed AHA awards certificate, with employee awards winners also receiving a handmade fused dichroic art glass earrings created and generously donated by TSG Artists in Glass.
Guests enjoyed the vocals of Perth's vibrant and fresh cover band Proof whilst dining on a selection of premium food and beverages, including James Squire's new beer, The Constable . Guests indulged in an entrée of Spiced NW king prawns with avocado followed by slow roasted Amelia Park lamb and finished with a dulce de leche glazed yuzu parfait.
Celebrations continued in the After Bar with premium beverages from Lion and alluring cocktails from Cosmic Cocktails.
""This year, hospitality venues in Western Australia have again provided excellent venues and services for the public to enjoy,"" said Mr Woods.
For more photos of the evening visit www.ahawa.asn.au/events or the AHA facebook page.
View all the winners and finalists online at our website dedicated to showcasing the best in hospitality for 2013! www.hospitalitywa.com
View the photo gallery here.
View the media release here.

GENERAL AWARDS
---
Aon Risk Services Community Service Award
Winner: Murphy's Irish Pub
The Lion Bar Presentation and Service Award
Winner: Print Hall
Responsible Service of Alcohol Award sponsored by Coca-Cola Amatil
Winner: Settlers Tavern
Training Initiative Award sponsored by Hospitality Group Training
Joint Winners: Kimberley Accommodation
Joint Winners: Parmelia Hilton Perth (Hall of Fame)
Highly Commended: The Royal on the Waterfront
Retail Bottleshop Award sponsored by Trans Tasman Energy Group
Winner: Raffles Hotel
Small Bar Award sponsored by 21st Century Business Equipment
Winner: Bar Lafayette
Highly Commended: Mechanics Institute
Highly Commended: Varnish on King
Cocktail Bar Award sponsored by Schweppes
Winner: The Classroom
Highly Commended: Luxe Bar
Highly Commended: Rockpool Bar & Grill Perth
Late Night Venue Award sponsored by Red Bull Australia
Winner: Universal Bar
Environmental Practice Award sponsored by Synergy
Winner: Karratha International Hotel
Tourism Initiative Award sponsored by Tourism Western Australia
Winner: Elmar's in the Valley
Outstanding Committment to Workforce Development Prctices Award sponsored by FutureNow
Winner: The Gate Bar and Bistro
Safe Cellar Award sponsored by BOC
Joint Winners: Bailey Bar and Bistro
Joint Winners: The Breakwater
Outdoor Area Award
Winner: The Shed
Boutique Brewery Award sponsored by BOC
Joint Winners: Cheeky Monkey Brewery
Conference and Functions Award sponsored by Perth Convention Bureau
Joint Winners: Hyatt Regency Perth
Joint Winners: The Breakwater
Redeveloped Venue Award sponsored by Mal Atwell Billiards and Bingo
Winner: The Esplanade Hotel Port Hedland
New Venue Award sponsored by LED4Me
Winner: Print Hall
Highly Commended: The Stables
EMPLOYEE AWARDS
---
Cookery Services Employee Award sponsored by Chaine Des Rotisseurs
Winner: Nicholas Birrell, The Gate Bar and Bistro
Highly Commended: Nadine McAllistar, Murphy's Irish Pub
Front Office Services Employee Award sponsored by HOSTPLUS
Winner: Bradley Smith, Parmelia Hilton Perth
Food and Beverage Services Employee Award sponsored by Staging Connections
Winner: Josh van der Linde, White Salt
Highly Commended: Troy Landers, The Inglewood Hotel
Administration Employee Award sponsored by HOSTPLUS
Winner: Gabrielle Macdonald, Eagle Bay Brewing Co
Highly Commended: Cara Maslin, Black Swan Wines
PubTAB Operator sponsored by TAB
Winner: Donna York, Boab Tavern
Mixologist Award sponsored by DIAGEO
Winner: David Nguyen-Luu, Rockpool Bar and Grill Perth
Highly Commended: Billy Phillips, Morries Anytime
Highly Commended: Sheldon Hendry, Pure Bar
Sommelier Award sponsored by Fine Wine Wholesalers
Winner: Daniel Wegener, Print Hall
Highly Commended: Antonio Vilaca, The Terrace Hotel
Excellence in Service Award sponsored by Easy Payroll
Winner: Andrew Bennett, The Classroom
Highly Commended: Steven Taji, Esplanade River Suites
AHA - HGT Hotel Industry Rising Star Award sponsored by AHA(WA) and Hospitality Group Training
Winner: Caitlin Webb, Andaluz Bar & Tapas
Venue Manager Award sponsored by HISCO
Winner: Matthew Marinich, The Quarie Bar and Brasserie
Highly Commended: Andrew McIntyre, Five Bar
Highly Commended: Damon McMillen, Settlers Tavern
ENTERTAINMENT AWARDS
---
TAB Hotel/PubTAB Venue Award sponsored by TAB
Winner: Boab Tavern
Sporting Entertainment Venue Award sponsored by FOX SPORTS Venues
Winner: The Inglewood Hotel
Highly Commended: Bailey Bar and Bistro
Live Entertainment Venue Award sponsored by APRA|AMCOS
Winner: Settlers Tavern
Highly Commended: Ya Ya's
Themed Venue Award sponsored by Coca-Cola Amatil
Winner: The Laneway Lounge
DINING AWARDS
---
WA's Best Steak Sandwich Award sponsored by Meat Direct
Joint Winners: The Merrywell
Contemporary Bar Menu Award sponsored by Accolade Wines
Winner: Morries Anytime
Public Bar Menu Award sponsored by Allstates Liquor Wholesalers
Winner: The Gate Bar and Bistro

Casual Dining Award sponsored by Australian Event Protection
Winner: Settlers Tavern
Family Dining Award sponsored by National Foodservice Equipment
Winner: Tony Roma's Restaurant
Highly Commended: High Wycombe Tavern
Informal Restaurant Award sponsored by 92.9 and Mix 94.5
Winner: Whistling Kite
Premium Restaurant Award sponsored by Treasury Wine Estates
Winner: Restaurant Amuse
Wine List sponsored by Miles from Nowhere
Winner: Print Hall
OVERALL AWARDS
---
WA's Best Regional Venue 2013 sponsored by H & L Australia

Winner:
Eagle Bay Brewing Co
The AHA De Bortoli/6PR Perth's Pub of the Year sponsored by AHA, De Bortoli and 6PR
Winner: The Gate Bar and Bistro
WA's Best Hospitality Venue 2013 sponsored by Furniture Options
Winner: Print Hall