2009 AHA Aon Hotel Awards for Excellence
Pure Excellence in WA Hospitality
WA's hotel and hospitality industry stepped out to recognise excellence across the sector. The Lion Nathan Gala Ball and presentation of the 2009 AHA Aon Hotel Awards for Excellence was held in the Grand Ballroom at Burswood Entertainment Complex and drew a crowd of 1100.

The AHA(WA) were also are proud to announce that this year''s event was supporting the Carbon Capture Program™. As a result of the AHA(WA) and individual venue contributions, over 1100 Mallee Eucalypt native trees will be planted across WA wheatbelt regions.
AHA(WA) CEO Bradley Woods said the AHA Aon Hotel Awards for Excellence reflect the high standards prevalent across the industry.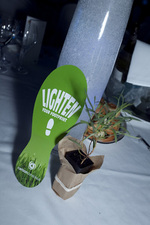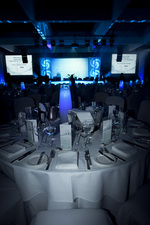 Hotel Awards
---

Aon Risk Services Community Service Award
Winner : Settlers Tavern, Margaret River
Certificate of Merit : Cuballing Tavern
The Lion Nathan Bar Presentation & Service Award
Winner : The Breakwater
Responsible Service of Alcohol Award sponsored by Coca-Cola Amatil
Joint Winner : Burswood Entertainment Complex
Joint Winner : The Vic
Training Initiative Award sponsored by Hospitality Group Training
Winner: Accor Hospitality
Hotel Innovation Award sponsored by Carbon Conscious
Winner: Steves Fine Wine & Food
Marketed Hotel/Tavern Award sponsored by Premium Beverages
Winner : The Left Bank Cafe Bar Restaurant
Retail Liquor Outlet Award sponsored by ME Bank
Winner: Osborne Park Hotel
Certificate of Merit: Steves Fine Wine & Food
Safe Cellar Award sponsored by BOC
Winner: The Shed
Environmental Initiative Award sponsored by Synergy
Winner: Parmelia Hilton Perth
Redeveloped Hotel/Tavern Award sponsored by MegaVision Sound & Lighting
Winner : The Breakwater
Redevloped Outdoor Area Award supported by British American Tobacco
Winner: Southerlys Harbour View Bar & Restaurant
Accommodation Awards


---
Marketed Accommodation Hotel/Resort Award sponsored by Advans Exhibition Services
Winner: Parmelia Hilton Perth
Tourism Initiative Award sponsored by Tourism Western Australia
Winner: Karijini Eco Retreat
Conference & Banquet Services Award sponsored by Perth Convention Bureau
Winner: Holiday Inn City Centre Perth
Concierge & Guest Services Award sponsored by City of Perth
Winner: Esplanade Hotel Fremantle
Pub/Hotel Accommodation Award sponsored by Mal Atwell Indoor Leisure Group
Winner: Royal Hotel, Perth
Mid-Range Accommodation Award sponsored by Customers ATM
Winner: Perth Ambassador Hotel
Superior Accommodation Award sponsored by Furniture Options
Winner : Esplanade Hotel Fremantle
Deluxe Accommodation Award sponsored by HotelsApart
Winner : Sheraton Perth Hotel
Apartment/Suite Acccommodation Award sponsored by KP Electric
Winner: Assured Ascot Quays Apartment Hotel
Resort Style Accommodation Award sponsored by Surf Life Saving Western Australia
Winner: Cable Beach Club Resort and Spa
Redeveloped Accommodation Hotel/Resort Award sponsored by HFM Asset Management
Winner: Broadwater Resort Apartments Como
Regional Accommodation Hotel/Resort of the Year sponsored by HISCO Hospitality & Healthcare
Winner: Pinctada Cable Beach Resort & Spa
Employee Awards


---
Bar Services Employee Award sponsored by DIAGEO
Winner: Jason Juraszek, Universal Bar
Certificate of Merit: Karl Burke, The Shed
Cookery Services Employee Award sponsored by Vocational Training Services
Winner: David Winnett, Duxton Hotel Perth
Front Office Services Employee Award sponsored by HOSTPLUS
Winner: Nigel Jenkins, Esplanade Hotel Fremantle
Dining & Banquet Services Employee Award sponsored by Staging Connections
Winner : Lenka Goldsmidova, Parmelia Hilton Perth
Certificate of Merit : Stevie-Nyx Ruki, Esplanade Hotel Fremantle
Administration Employee Award sponsored by HOSTPLUS
Winner : Taryn Spicer, Crowne Plaza Perth
Certificate of Merit : Meg Coffey, The George
Employee Excellence in Service Award sponsored by Hospitalitybiz - hospitalityJOBSforU
Winner : Claire Wynne, J.B. O'Reilly's
AHA-HGT Hotel Industry Rising Star Award sponsored by AHA(WA) and Hospitality Group Training
Winner : Claire Bateman, Holiday Inn City Centre Perth
Entertainment Awards


---
TAB Hotel/PubTAB Venue Award sponsored by Racing and Wagering Western Australia
Winner : Last Chance Tavern
Sporting Entertainment Venue Award sponsored by Fox Sports
Joint Winner : Carbon Bar - Burswood Entertainment Complex
Joint Winner : Greenwood Hotel
Live Entertainment Award sponsored by APRA
Joint Winner : Charles Hotel
Joint Winner : Paddington Ale House
Certificate of Merit : Mundaring Weir Hotel
Themed Bar Award
Sporting Entertainment Venue Award sponsored by Coca-Cola Amatil
Winner: Belgium Beer Cafe Westende
Certificate of Merit : J.B. O'Reilly's
Contemporary/Late Night Bar Award sponsored by Smart Beverages
Joint Winner : The Cabin
Joint Winner : The George
Dining Awards


---
WA's Best Steak Sandwich Award sponsored by Meat Direct
Winner : Inglewood Hotel
Bistro Award sponsored by Constellation Wines Australia
Winner : The Gate Bar & Bistro
Certificate of Merit: Port Kennedy Tavern
Casual Family Dining Award sponsored by Evoke Media
Joint Winner : Clancy's Fish Pub Fremantle
Joint Winner : Seven Mile Inn
Hotel/Tavern Restaurant Award sponsored by 92.9
Joint Winner : Subiaco Hotel (Hall of Fame)
Joint Winner : Ishka Restaurant, The Breakwater
Restaurant Award sponsored by The West Australian
Joint Winner : Wise Vineyard Restaurant
Joint Winner : Zafferano
Accommodation Hotel/Resort Restaurant Award sponsored by HLW(WA)
Winner : SELENE Brasserie, Pinctada Cable Beach Resort & Spa
Hotel/Tavern Wine List Award sponsored Pernod Ricard Australia
Winner : The George
Certificate of Merit : Steves Fine Wine & Food
Accommodation Hotel/Resort Wine List Award sponsored by Samuel Smith & Son
Winner : (A)LURE Dining & Bar, Burswood Entertainment Complex (Hall of Fame)
Overall Awards


---
Regional Hotel/Tavern of the Year sponsored by H&L Australia
Winner : Settlers Tavern
AHA DeBortoli/6PR Perth Pub of the Year sponsored by AHA(WA), DeBortoli and 6PR
Winner : The Gate Bar & Bistro
Hospitality Industry Lifetime Achievement Award
Winner: Murray McHenry