2013 AHA Coca-Cola Amatil Golf Classic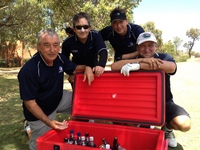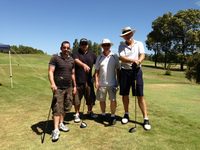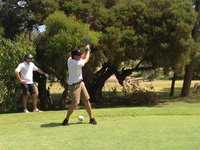 Tuesday 26 February 2013 The Vines Resort & Country Club
The great weather boded well for all teams at The Vines Resort & Country Club for the 2013 AHA Coca-Cola Amatil Golf Classic on Tuesday 26th February.

Congratulations to all participants who helped make the 2013 AHA Coca-Cola Amatil Golf Classic Day a great day for the hotel and hospitality industry.

A very special congratulations to the winning team, The Quarie Bar and Brasserie, who prevailed in the heat over the other teams at the 18 hole sold-out ambrose event.

The 2013 AHA Coca-Cola Amatil Golf Classic concluded with award presentations over a rotisserie banquet with gourmet pizzas and beverages.
Click here to see more team photos and action shots of the day
Winner:
Prize: 4 x Jim Beam Bar Fridges filled with a case of Jim Beam Devils Cut RTD
Winner: The Quarie Bar & Bistro
Score: 59.375
**The scores for the winners and the runners up were the same however the 2nd place team lost on countback.
Runner Up:
Prize: 4 x Coca-Cola Beach Packs (sports bag, mini speakers, cooler bag with filled cans of Coca-Cola, cap, beach chair, watch & sunglasses)
Winner: The Bailey Bar & Bistro
Score: 59.375
Third Place:
Prize: 4 x Powerade Golf packs (shoes bag, tee, towel, vision)
Winner: Port Kennedy Tavern
Score: 60.375
NAGA (Last Place):
Prize: Jim Beam Chump Prize (Jim Beam singlet, sunglasses, stubby cooler)
Winner: Little Creatures Brewing
Score: 75.875
Click here to view novelty prize winners

Proudly supported by:

Thank you to the following sponsors for their support of this year's event.
Coca-Cola Amatil
21 st Century Business Equipment
Aon Risk Services
APRA l AMCOS
Arcus Australia
Banktech
BOC
Carlton & United Breweries
Colonial Brewing Company
DC Payments
DIAGEO
Easy Payroll
Extreme Corporations
FOX SPORTS Venues
Goldstein Eswood
H & L Australia
Hospitality Group Training
HOST PLUS
KBR Commerical
Lion
Liquor Marketing Group
Mal Atwell Billiards and Bingo
Matso's Broome Brewery
ME Bank
Moffat
MUSEC
Pernod Ricard Australia
Premium Beverages
Samuel Smith & Son
Schweppes
Sealy of Australia
Silver Chef
Signbox
Smith's Snack Foods
Synergy
TAB
The Chair & Table Warehouse
Vok Beverages