AHA Products
The Official RSA INDUSTRY ID Card
This is the official AHA RSA ID + Industry ID Card for Hospitality Specials and VIP Access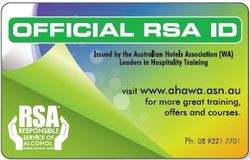 The AHA (WA) Official RSA INDUSTRY ID card displays your RSA qualifications in a convenient credit card size that has the added bonus of being an official Industry ID.
The RSA ID card can be used together with of instead of, a paper certificate to prove you have successfully completed the required mandatory RSA training.

ID Card Only Special - introductory price of $19.99!

Already completed your RSA Training? Purchase your Official RSA ID Card here.
Complete your RSA Training here to purchase the Official RSA ID Card.
---
AHA Liquor Licensing Guide
The AHA (WA) Online Liquor Licensing Guide is an invaluable tool to stay on top of WA's complex liquor laws. The guide has been created to enable licensees and managers to assist in the interpretation of vital regulatory information.
The guide includes quick reference fact sheets to explain essential business operational information in an easy to understand format and is only accessible by AHA(WA) members in the Members Area. Valued at $495
For membership enquiries, please contact Mike Andrew on 08 9321 7701.
---

Harm Minimisation Pack
The AHA (WA) Harm Minimisation Package has been designed to assist you in satisfying the harm minimisation guidelines set out by the Department of Racing, Gaming and Liquor.
The package contains the House Management Policy and the Code of Conduct presented on an A3 certificate that is suitable for framing and display in your premises.
The package also contains the Management Plan which is presented in a hard copy format in order to assist you in customising the plan to your needs, as required by the Department.
Click here to purchase a Harm Minimisation Pack
Additional House Management Policy and Code of Conduct Certificates can be ordered seperately.
Click here to purchase additional House Management Policy and Code of Conduct Certificates