Recent AHA Industry Achievements
The Australian Hotels Association (WA) works tirelessly for the interests of all hospitality businesses throughout WA and plays a pivotal role in all aspects of hospitality and tourism.
For over 120 years the AHA has been representing the interests of your industry and businesses like yours. No Association is better equipped to deliver positive results, protection and a voice for all aspects of the industry. AHA membership has never been more important.
AHA Delivers on Liquor Control Act Review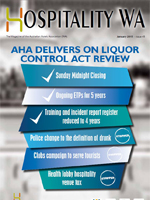 WIN - Sunday Midnight Closing
WIN - Ongoing ETP's for 5 years
WIN - Training and incident report register reduced to 4 years

STOPPED - Police change to the definition of drunk
STOPPED - Clubs campaign to serve tourists
STOPPED - Health lobby hospitality venue tax
For more detailed information on recent outcomes from the Review of the Liquor Control Act and current projects the AHA is advocating on please contact AHA Membership Manager, Michael Andrew membership@ahawa.asn.au
---
AHA Current Issues and Advocacy
The Review of the Liquor Control Act to ensure that any legislative amendments foster a vibrant hospitality sector by reducing unnecessary red tape and excessive regulation;
Getting a better deal on penalty rates - because current laws don't reflect modern hospitality;
Fighting to lower the burden of regulation so you can provide hospitality instead of pushing paper;
Assisting our members with regulatory and workplace relations issues;
Holding the Public Health Lobby and Government to account;
Celebrating our members' achievements through our Awards for Excellence, Accommodation Gala Ball and Supplier Awards;
Sharing and promoting WA hospitality and tourism with Australia and the world.